Are You Leveraging the Power of Your Google Analytics Data?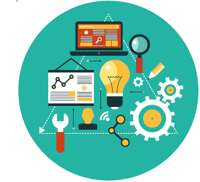 Google Analytics is a powerful tool to provide insights into how your visitors find and interact with your website. Harnessing visitor insights can positively impact your company's bottom line and help you make more informed marketing decisions based on hard data.
In this eBook, we'll help you make your monthly data reporting and analyses a breeze. We'll provide an overview of Google Analytics dashboards and we'll show you how to create dashboards and analyze the data you collect.